There is a normal tendency of inertia for change and accepting something new in life. In one's own internal life a spiritual power is needed to accept oneself and give way to change. In this context, Reiki is a powerful and proven tool for upliftment of the total quality of life and well being.
Reiki is a Japanese word which means" universal life force energy"
Reiki Attunement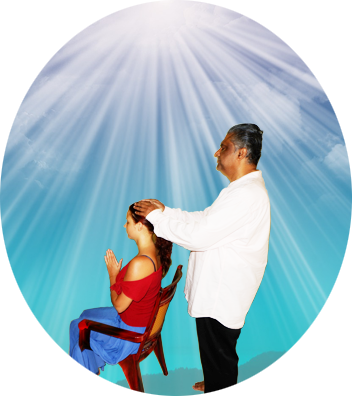 Reiki is channelised to a person by a competent Reiki Master through a special process called "ATTUNEMENT" Attunement is a spiritual experience where a deep relaxation is felt, increased healing energy is released and toxins are expelled from the system. Reiki energy travels through "Chakras" (Energy Wheels) which are the main centers of our energy body. Due to the depletion and congestion of the energy body, the movement of chakras are affected and thereby the endocrine system is affected which results in disharmonious hormonal secretions which is eventually expressed as a disease in the physical level. A Pathologist can cure a disease in the physical system but the root cause of the disease remains in the energy level. Reiki corrects this abnormality in the energy level and the root cause of the disease is removed from the system. After becoming a Reiki channel, by simply placing the vibrant hands on the diseased portion or the chakra area, one can heal oneself. Reiki invokes the healer in you and you can heal yourself & others.